NOTICE:
Portable Temporary Construction Fence Panels
---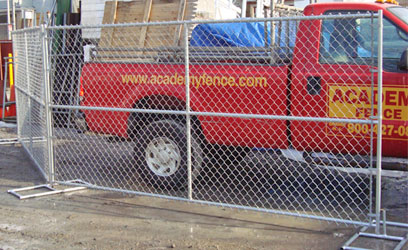 Academy Fence manufactures portable self standing temporary fence panels for building site projects and construction sites. Easy to put up and take down. No digging required. A two man team can have the perimeter temp fence up in a few minutes. We construct the temporary fences out of regular chain link fencing material. These modular fences are re-useable with no maintenance.
Academy

Pipe -
.065 Wall
Wire 2" Mesh
(smaller opening)
11 Gauge (very heavy)
Tie wire to
pipe every 12"
Bands with
Nuts & Bolts

Heavy Duty Gates & Hardware

Have Vertical Upright

Have Horizontal Midrail

Competitors
Pipe -
Thinner Wall
Wire 2 - 1/2" Mesh
(large opening)
11 - 1/2 Gauge (very light)
Tie wire to
pipe every 18"

Squeeze Clips

Light Weight Gates & Hardware

No Vertical Upright

No Horizontal Midrail

Available for immediate pickup or shipment.
| | | |
| --- | --- | --- |
| One Peg Stabilizer | Stands are made of hot dipped galvanized steel pipe. Heavy duty constructions means they will not break. This stabilizer bracket is made to go on the ends of the fence | |
| Two Peg Stabilizer | This is made the same as the 1 peg stabilizer except one bracket is required to adjoin 2 temporary fence panels in a continuous line. | |
Portable Construction Fence Components : Heavy duty material made of hot dipped galvanized steel.

Item Number

Description

Price / Each

Add to Cart

TCF612
Portable Temporary Construction Panels
6ft H x 12ft W
$165.00
TCFG
Portable Temporary Construction Panels w/Gate
6ft H x 12ft W
$220.00
TCF66
Portable Temporary Construction Panels
6ft H x 6ft W
$115.00
TCF6G
Portable Temporary Construction Panels w/Gate
6ft H x 6ft W
$155.00
TCF810
Portable Temporary Construction Panels
8ft H x 10ft W
$175.00
TCFG8
Portable Temporary Construction Panels
8ft H x 12ft W
$200.00
TCF1PS
One Peg Stabilizer - For TC Fence
36in L x 16in W x 8in H
$22.00
TCF2PS
Two Peg Stabilizer - For TC Fence
36in L x 16in W x 8in H
$22.00
Call for free Estimate
973 674 0600
---