NOTICE:
Academy Deer Fence
Long Lasting, Galvanized Steel Core Wire, then black vinyl PVC coated
---
Deer fence 8 foot 2 x 4 black, deer fence 1 1/2 x 4 black, deer fence graduated fixed knot. We offer cost effective ways to provide protection from deer damage. Our fence is nearly invisible after installation, and protects farms, nurseries, gardens and property perimeters.
We offer a wide selection of types, mesh sizes, gauges, heights up to 8ft (96in high), and colors (including black). These are all heavy duty, long lasting, galvanized steel core alternatives to plastic 'poly' netting. Each is designed to afford the ultimate in durability and longevity. The wire is all hot dipped zinc / galvanized coated steel wire, prior to being pvc vinyl coated, making it extremely corrosion and rust resistant. Look over our product lines and click on any for more detailed information and pricing.
Available Choices: All black vinyl PVC coated, over a galvanized steel core
96in High
2in x 4in Black

96in High meets pool code
1 1/2in x 4in Black

90in High
1in Black Hex
48in - 96in High Graduated Fixed Knot
72in High
2in x 4in Black
72in High meets pool code
1 1/2in x 4in Black
U channel
Knock in Post
Deer Fencing
Item#:
Size:
Weight:
Price:
Purchase:
WW241410096CL
96in x 100ft
2in x 4in 14 Gauge
135.00
$270.00
WW1541410096CL
96in x 100ft
1-1/2in x 4in 14 Gauge
165.00
$275.00
WW12010090BK
90in x 100ft
1in 20 Gauge
96.00
$180.00
WW1233096BK
96in x 330ft
Graduated Mesh
395.00
$720.00
WW241410072CL
72in x 100ft
2in x 4in 14 Gauge
98.00
$180.00
WW1541410072CL
72in x 100ft
1-1/2in x 4in 14 Gauge
125.00
$175.00
Knock-In Posts, U-Channel with fastening clips
Vinyl Black Fence Piping 1 5/8in Outside Diameter
Round Non Tapered Cedar Wood Fence Post

| | | | | | |
| --- | --- | --- | --- | --- | --- |
| Item#: | Size: | Weight: | Price: | Color: | |
| AFCRW5596 | 5in x 96in | 28.00 | $31.00 | Cedar | |
| AFCRW55108 | 5in x 108in | 21.00 | $33.00 | Cedar | |
| AFCRW55120 | 5in x 120in | 35.00 | $35.00 | Cedar | |
| AFCRW55144 | 5in x 144in | 42.00 | $40.00 | Cedar | |
Bazooka Knock-In Post Driver

| | | | | | |
| --- | --- | --- | --- | --- | --- |
| Item#: | Size: | Weight: | Price: | Color: | Purchase: |
| WWFBPDR | up to 2.5in | 25.00 | $45.00 | Red | |
Call for a free Estimate
973-674-0600
---
USED INVENTORY FOR LOCAL PICKUP ONLY
1 / 3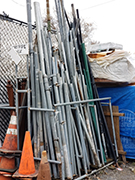 2 / 3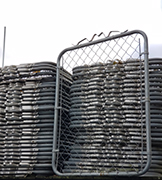 3 / 3