NOTICE:
Yard & Garden Material Quick Ship
Arbors
Vinyl Arbors, Trellises and Pergolas


Free Shipping

Mailbox Posts
Vinyl PVC decorative mailbox posts


Free Shipping

Hand Rail Speed Fittings
Slip on pipe railing quick speed connectors.
Aluminum Railings
Deck / Porch railings 36" or 42" High.
Vinyl Railings
Deck / Porch railings 36" or 42" High.
Rustic Wood Furniture
Benches, Swings, Tables and more.
Brackets and Mounts
Railing and Post mounts
Vinyl Posts
Heavy vinyl blank posts. Fence & Sign

FENCE INSTALLATIONS AND REPAIR
Fence Accessories Quick Ship
Privacy Slats


Chain Link Fence Slats Inserts. HUGE inventory.

Razor Wire
High security fence Stainless Steel.
Razor Ribbon
Deer Fence


A deer fencing solution to control deer and other animals.

Temporary Construction Fence
Self standing panels. Portable Fencing
Dog Run Kennel


Portable Dog Run Kennels. Heavy Duty and Shippable.

Silt Fence
Used around construction sites and for erosion control.
Fence Tools
Professional and durable fencing tools.

Established in the 1960's we offer a complete line of all types of fencing and railing. As installers and designers we are able to offer the best quality available in the industry. Whether it is aluminum, vinyl, chain link, wood or welded wire fencing you can be assured that we offer only the best in quality and standards.

We also offer a robust line of outdoor living, yard and garden products. Our goal is to offer the best and newest design ideas to beautify and increase the value of your home and property. Our product development and design team is committed to offering high quality items for the most discriminating home owners.

Call for a free Estimate
973-674-0600
---
USED INVENTORY FOR LOCAL PICKUP ONLY
1 / 3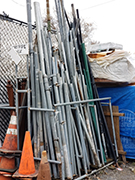 2 / 3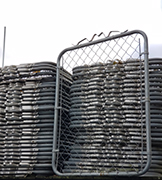 3 / 3