NOTICE:
Vinyl Portable Arbor with Gate
by SDM Inc.
---
These quality portable arbors are made of high density (HDPE)and are comprised of a vinyl lattice panel system made of individual sections fully portable and adjustable to accommodate any layout. It is designed to be long lasting in all seasons, all weather, year round.

Each self standing divider is designed to butt up against each other, leaving no gap and making for easy set up and rearranging. The sections come in three different height choices requiring no ground attachment, and are ideal on any indoor or outdoor flat surface.

Each unit comes with a bottom planter (32" long x 11" high) which can simply be filled with water or filled with planting dirt to hold the unit securely in place. Climbing plants can then climb the lattice to create a true garden trellis effect. Water trays to fit under the planter are available.

They have the same custom design as the "Arbor with Gate" and provide an ideal privacy screening to partition an outdoor cafe, restaurant, terrace or for along side the pool.


Click on the images to enlarge
Arbor with Planter
Item
Color
Price
PA21000W
White
245.00
PA21000G
Green
245.00
Arbor with Planter & Gate
PA21020W
White
335.00
PA21020G
Green
335.00
Water Tray
PA21040W
White
25.00
PA21040G
Green
25.00
Use the water tray if you are considering putting plant life into the base of your new portable arbor.
Call for a free Estimate
973-674-0600
---
USED INVENTORY FOR LOCAL PICKUP ONLY
1 / 3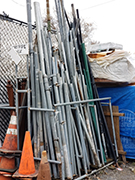 2 / 3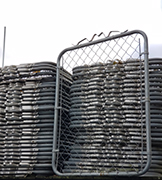 3 / 3