NOTICE:

Academy Vinyl PVC Fence System
(Choose a Style)
---
This is Premium Grade Vinyl Fence, assured by Academy Fence Company, to meet and exceed "Premium Vinyl Fence Standards" amongst the finest quality available. This fence is a product with proven specifications that last in strength and in beauty.
What makes a "Premuim" Fence "Premuim"?
Heavy wall thickness of fencing and posts.
Premuim - Vinyl Fence
Lower Quality Vinyl Fence
Heavy Wall thinkness of fencing and post: The heavy wall "Vinyl Post" is set directly in to the ground for stable lifetime endurance. (See Specifications)
Routed Post & Rails; The pickets go into the horizontal rails and the rails go into the post.
Thin wall thickness of fence and posts; Most require installing a wood post, which rots relatively quickly as teh basis before putting a vinyl sleeve over it.
Brackets with metal nuts and bolts are used to attach the pickets to the rails and the rails to the post.
Call for a free Estimate
973-674-0600
---
USED INVENTORY FOR LOCAL PICKUP ONLY
1 / 3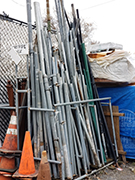 2 / 3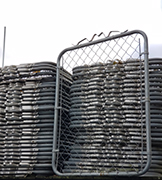 3 / 3